Fried pork dish
Hello dolls,
Talking about food this time , seriously what I miss the most all this years is not been able to eat typical Ecuadorian dishes , when people ask me which one is my favourite dish, I can't tell because I like almost all of them but I have to confess that my favourite dish have to be the fried pork with hominy corn and salad with onions and tomatoes  ;D.
Most of the people are afraid to try new dishes, because you don't know if you will like it or not,If you ever get to travel to Ecuador don't forget to try them all you won't regret .
Hope you enjoy my post sweeties,
Happy Sunday!
Love,
Virgit  xXx
Fritada dish (fried pork) see first picture above
I Have to tell you that the best fried pork I have ever eaten was in Cuenca almost in the middle of Ecuador.
a pork dish made by cooking chunks of pork in large pans with water until the water has been consumed and the pork is left to cook itself in its own fat. The results are delicious pieces of pork that are crispy and golden on the outside while juicy and tender inside.
Fritada is served with side dishes including mote (hominy corn),fried ripe plantains, tomato and onion curtido sauce, aji or freshly made hot sauce, maíz tostado or cancha corn nuts, and more.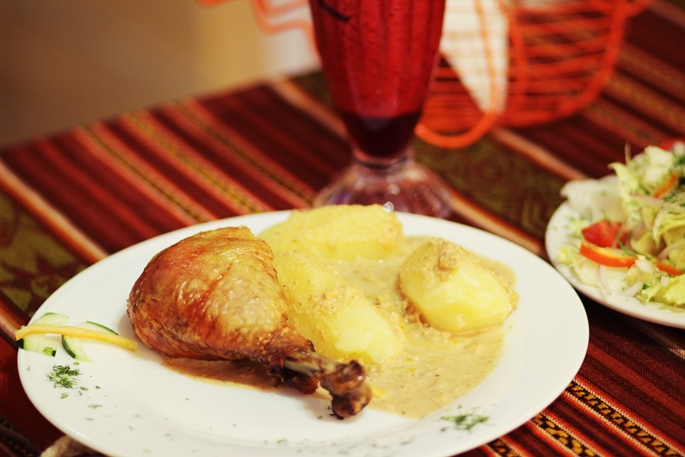 Gallinas de pinllo dish, ( known as Pinllo hens) Ambato
I'm Kind of tired of eating chicken but if you are a chicken lover you have to try this Pinllo hens dish .
This Hens dish is a typical dish that rescues the tradition giving customers in general the rich flavor of the food prepared in a wood oven served with potatoes with a peanut sauces.
And the best area to eat this delicious dish is in Ambato ;D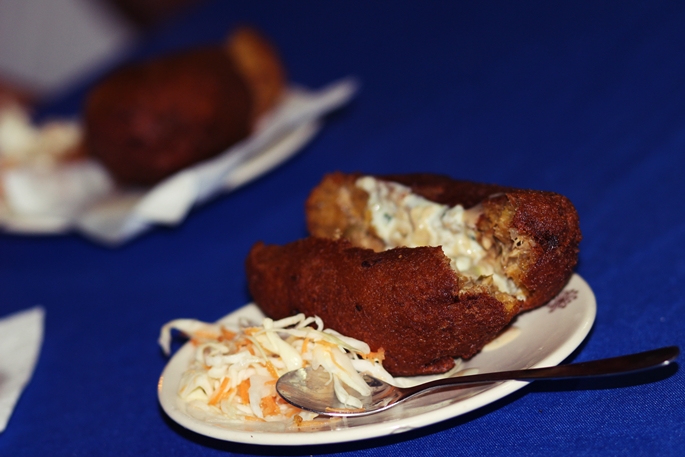 Corviche Dish
A corviche is a cross between a fried dumpling, a fritter, and fish cake. The dough is made from green plantains and it has a fish filling –usually corvina fish from which it gets its name. Corviches are usually sold at the beach and are especially popular in the coastal province of Esmeralda They are served with tomato and onion sauce, but the sauce you see in the picture is made by  cabbage and carrots
Mote Pillo ( Ecuadorian hominy corn and egg scramble)
This dish is also an other one of my favourite because it has hominy corn , and it comes with Morcilla is a blood sausage! I love its taste and the blend of spices they use in it and pork and a delicious salsa with onions , tomatoes and avocado the best place to eat this dish have to be in Cuenca.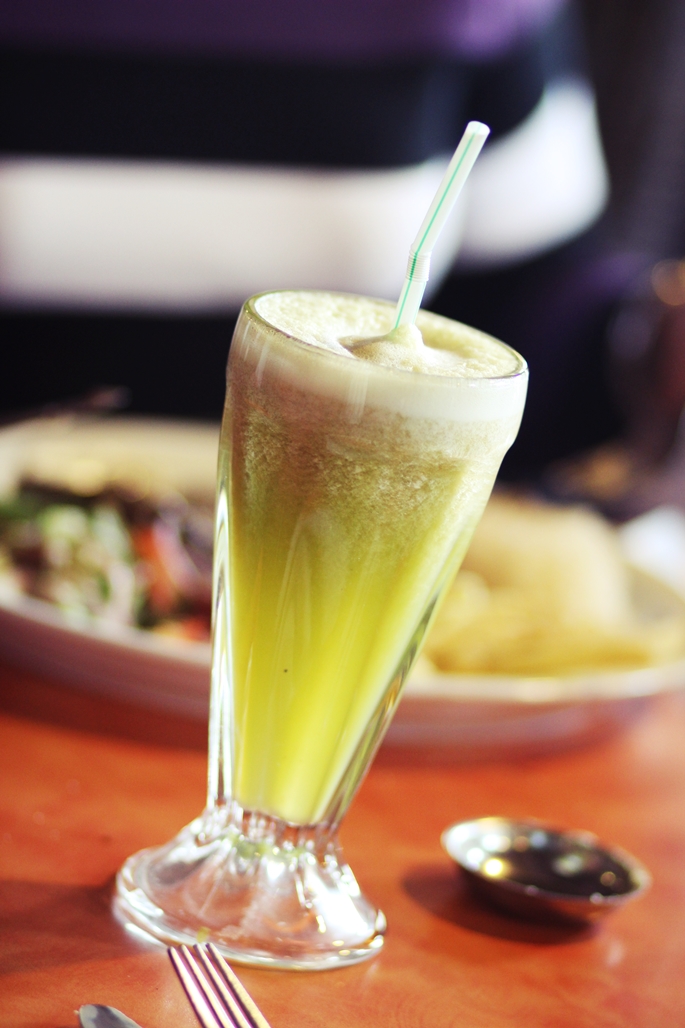 The exotic Naranjilla Juice Known as ( little orange)
Freshly made fruit juices and other drinks are very popular in Ecuador.
Ecuador has such a variety of fruits that you can't find in Europe like the naranjilla juice ( little orange juice)
The fruit has a citrus flavour, sometimes described as a combination of rhubarb and lime. The juice of the naranjilla is green and is often used as a drink.
you can find this fruit only in south America, Panama, Colombia and Ecuador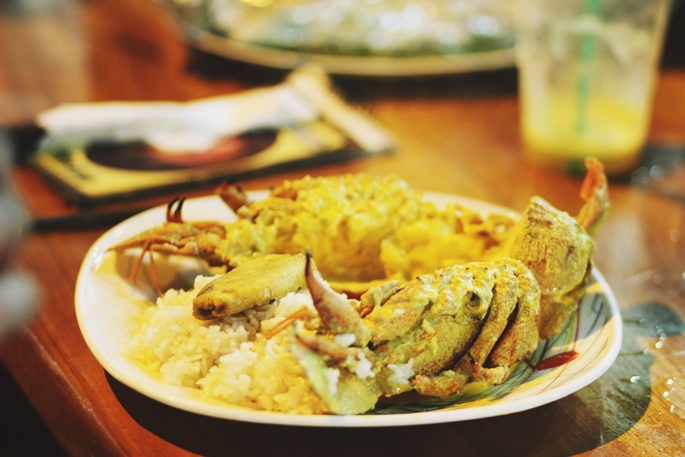 Encocado de cangrejo
Is Crab with a cocos saus rice and baked banana, you can find this dish at the kioskos (kiosk) in the Galapagos Island in Santa Cruz the taste is so yummy!
Pescado brujo known as ( witch fish)

Is a grilled fish with vegetables, I just can't explain you the taste but this fish is like no other this has to be one of the best dishes in the Galapagos Island because in the continent that's how local people call it in the main land Ecuador, they don't sell this fish .
If you get to go to the Galapagos Island don't forget to try this delicious dish at the Kioskos ( kiosk)  in Santa Cruz Island

Comments