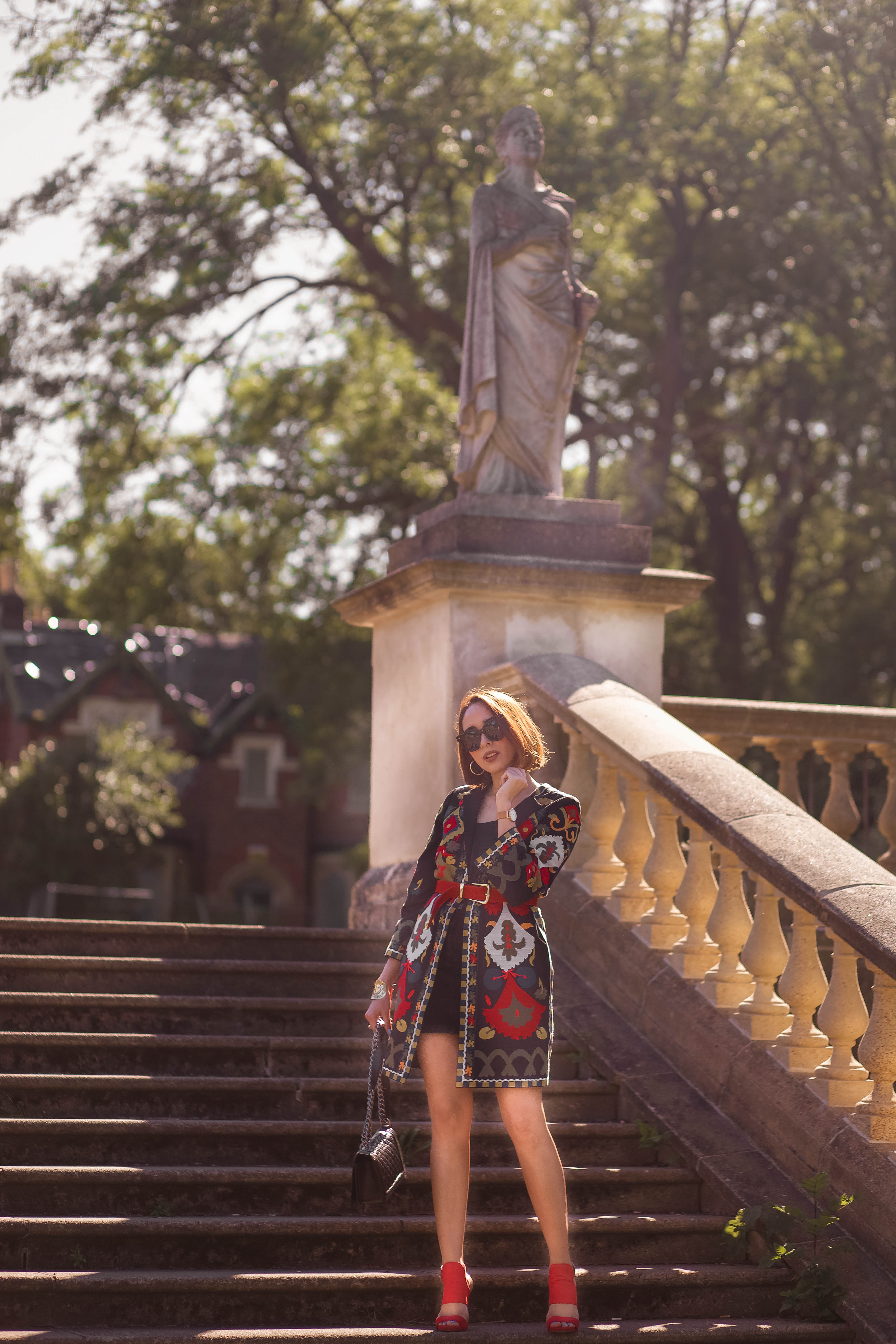 Hello my lovelies and happy Wednesday!  I have had this post in the plans for a few weeks, I discovered this new designer Kobi Halperin and felt in love with his garments.
I'm excited to be sharing this amazing jacket with you all today. To start off with, I'm styling this amazing Kobi Halperin find that I have been getting SO much wear out of, this darling jacket.  It's such an easy jacket to wear. So comfortable and the easiest summer piece. I could rave about this one all day. The quality is amazing, It runs TTS the best way to style it is by just wearing basic pieces like I did here  by wearing a denim skirt and black top but combine it with key pieces such as the red leather belt and red heels. This jacket is such a great transition piece for fall!
I'm wearing one of his latest collection and he use a lot of embroidery techniques into it, something I read online in a interview  about this jacket.
You utilise a lot of traditional embroidery and rich fabrications in your design, what techniques did you choose to explore in your collection?
KB: "I love learning about different traditional embroidery techniques and showcasing them into my designs. For the Amber jacket, I referenced a typical Suzani embroidery technique that comes from Uzbekistan. It's a primitive impression of flowers and I loved how it portrayed a different, less realistic flowers on a coat. Everything I do always comes from my research. I love collecting pieces of history and bringing it into my work.
Born and raised in Israel to Eastern European parents, the designer worked previously as the creative director of Elie Tahari for 13 years, before moving on to become creative director for Kenneth Cole. In 2015, he decided to launch his own label, Kobi Halperin with a design philosophy to elevate the everyday through crafting beautiful pieces. His collections reflect the intricacies of his heritage through a mixture of traditional techniques and high-quality fabrications.
As most of you know how much I love, to express myself through clothing and wearing happy colours this jacket is totally me.
I also wanted to quickly mention that with his latest AW19 collection, The Creation of Beauty, having launched exclusively at Fenwick, I don't know if they sell in the Newcastle store but you can find his pieces online.
Love,
Virgit
Photography by https://eslamgazelle.com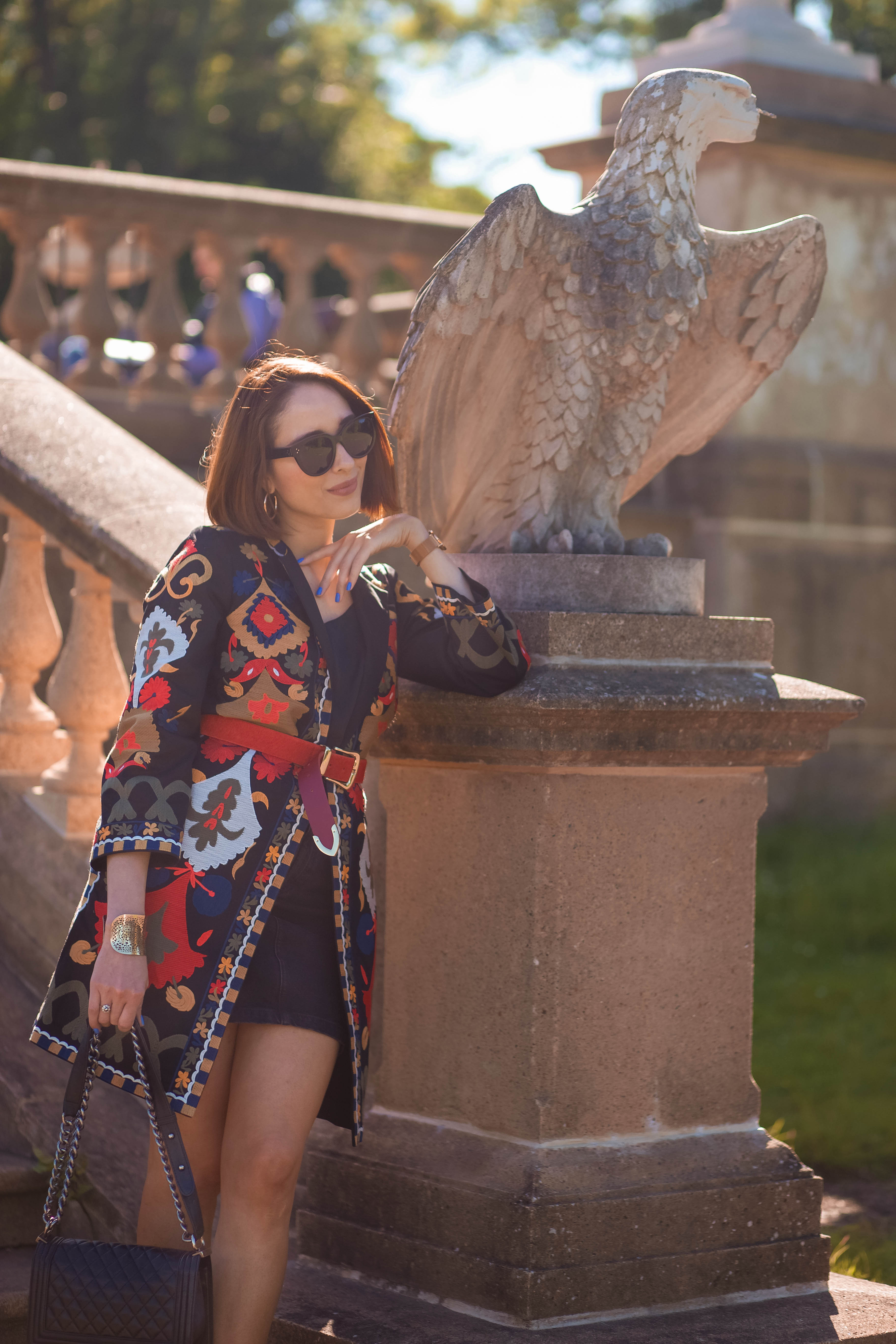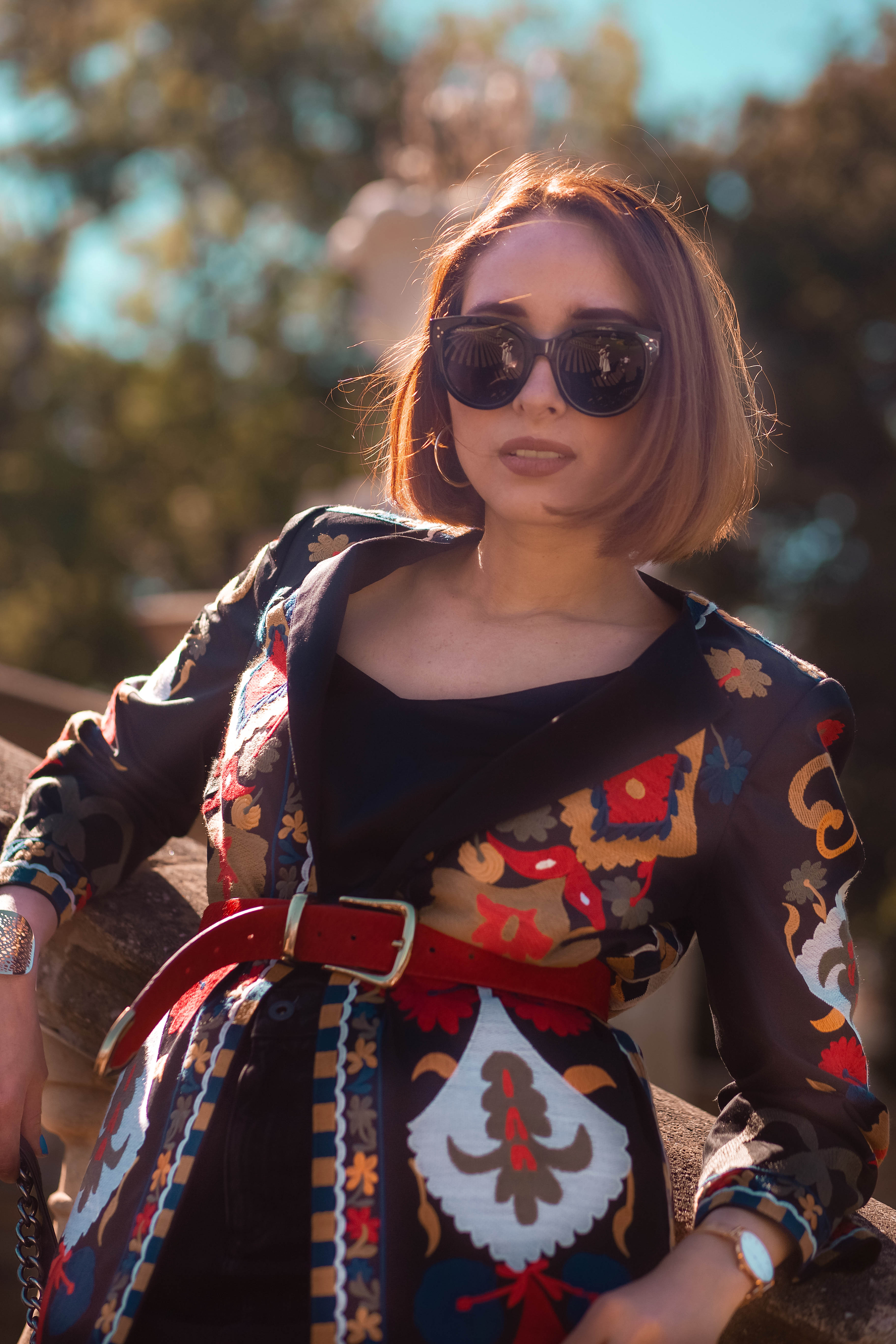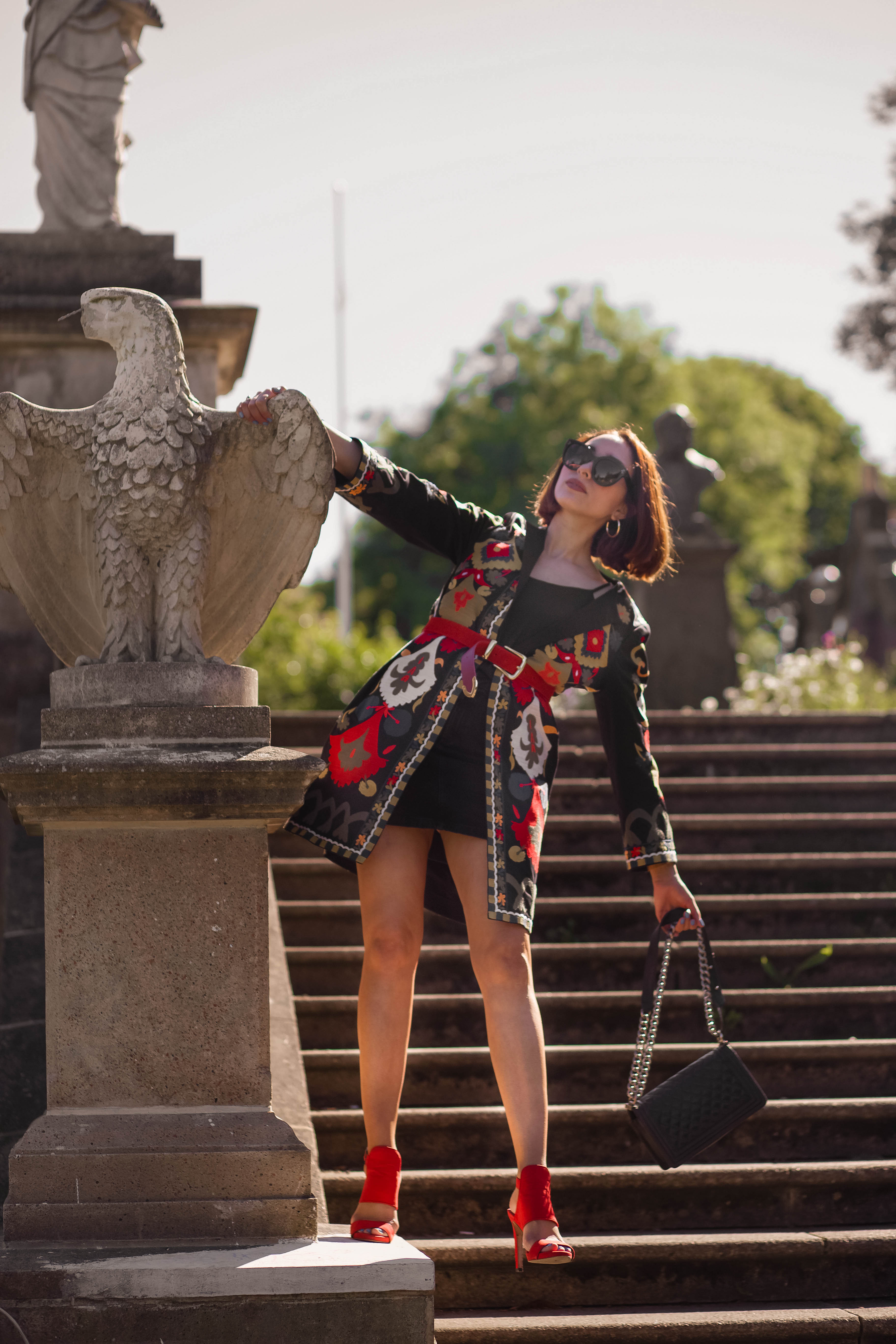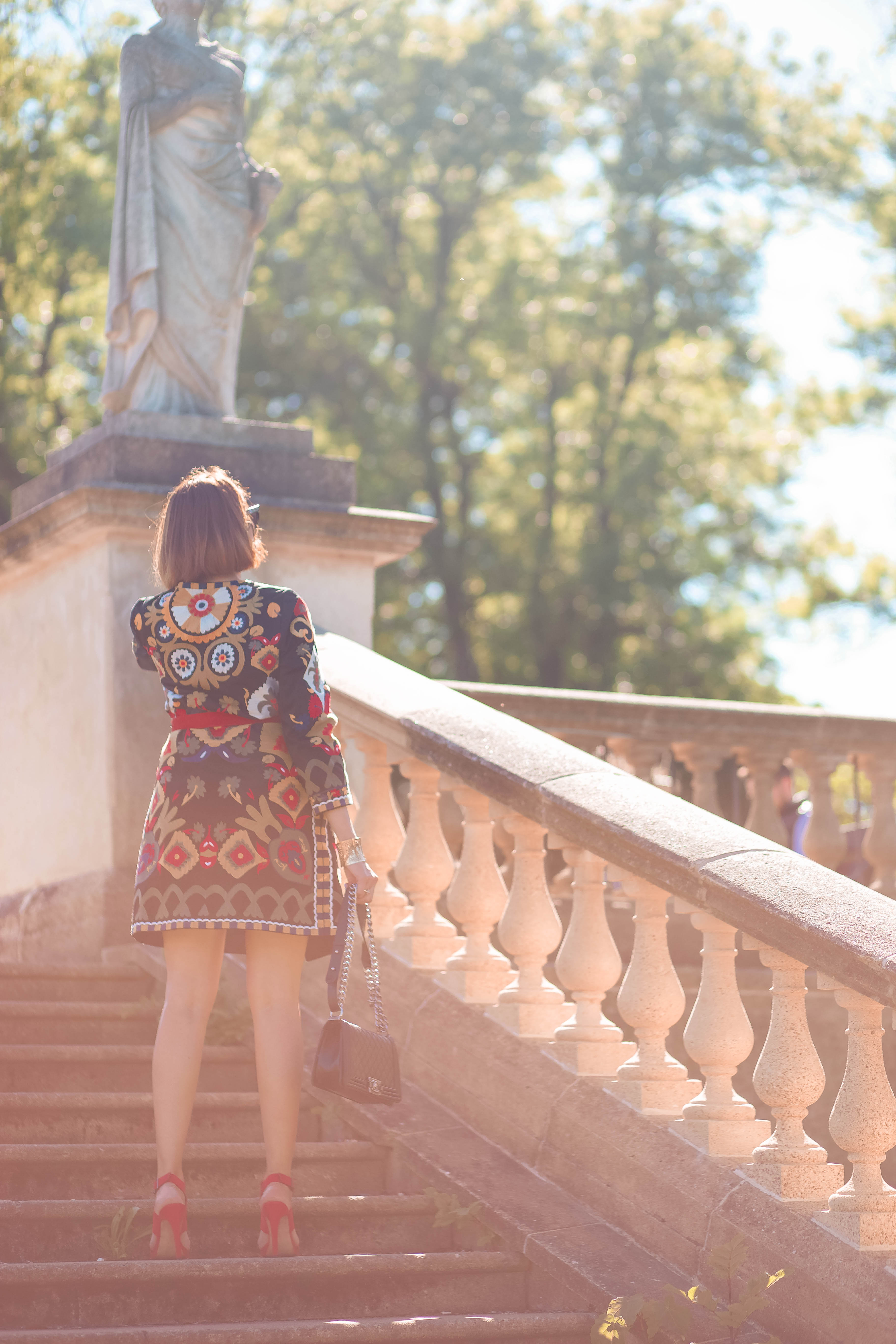 What I Was wearing:
Sunglasses: Celine
Embroidery jacket: Kobi Halperin
Vest: Newlook old but similar HERE
Skirt: JackWills
Bag: Chanel boy bag
Heels: Zara old but similar HERE

Comments